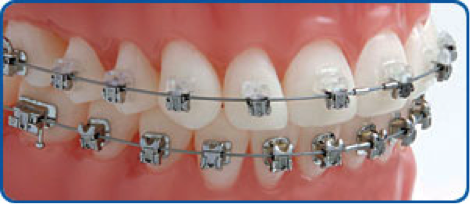 These fixed orthodontic braces that are part of the revolutionary Damon System deliver faster treatment, fewer appointments, greater comfort, and consistent high-quality results.
With traditional braces the wire is tied in with elastics which cause friction and pressure. Damon braces uses a slide mechanism to hold the wire, which allows teeth to move more freely quickly and comfortably.
Damon braces are designed to be discreet, comfortable and easy to keep clean. Without the elastics which attract and collect plaque, Damon braces make dental hygiene easier during treatment.
The three key components are:
1. Damon passive self-ligating braces that eliminate the need for elastic or metal "ties". With Damon tie-less braces you can experience treatment without tightening.
2. Light high-technology shape-memory wires that move teeth faster and require fewer adjustments.
3. A new clinically proven treatment approach that aligns your teeth and enhances your facial aesthetics – usually without extractions or rapid palatal expanders.
The days of having braces tightened are over. This revolutionary new approach to orthodontics ensures greater comfort throughout treatment. That's because Damon System braces have a unique slide mechanism that allows your doctor to use far lighter forces to move teeth to their correct positions. So not only is your treatment shorter, it is also far more comfortable. Many people experience little to no discomfort in treatment.
More Helpful Information On Braces